ADCC has global collaborations with the BIM industry masters to provide BIM services
It is an intelligent 3D model-based process that gives architecture, engineering, and construction (AEC) professionals the insight and tools to more efficiently plan, design, construct and manage buildings and infrastructure.
BIM enables professionals to coordinate data about a project from design through construction and operation.
A BIM project models all data relating to design, costs, safety, clash detection, scheduling, sustainability and efficient facilities management factors used among a shareable platform between architects, engineers, owners and builders.
BUILDING INFORMATION MODELING (BIM)
BIM represents the development and use of computer-generated n-dimensional (n-D) models to simulate the planning, design, construction and operation of a facility. It helps architects, engineers and constructors to visualize what is to be built in a simulated environment and to identify potential design, construction, or operational issues.
The information within a building information model include:
Physical and functional characteristics of the building
Spatial relationships
Geographic information
Quantities and properties of building elements
Cost estimates
Material inventories
Project schedule
Project life cycle information
Operation and maintenance procedures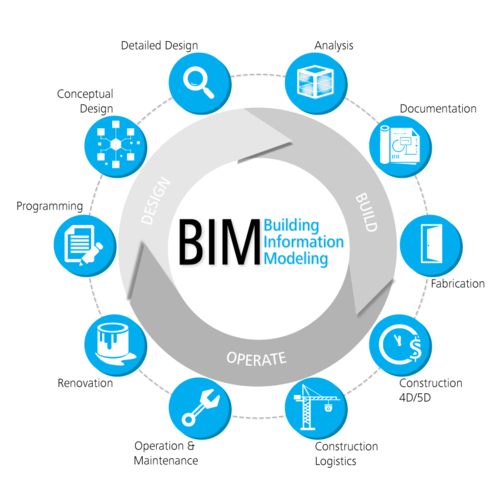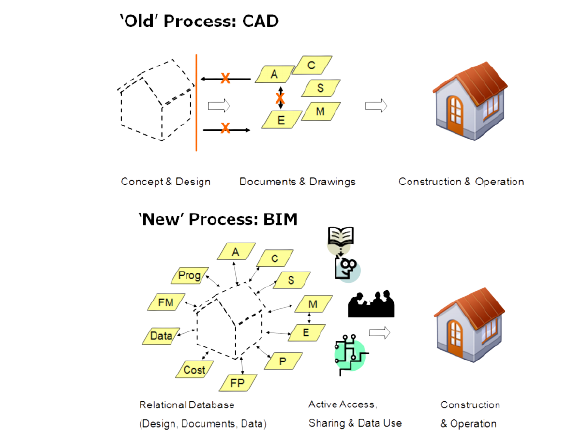 A Building Information Model is a data-rich, object-oriented, intelligent and parametric digital representation of the facility, from which views and data appropriate to various users' needs can be extracted and analyzed to generate information that can be used to make decisions and to improve the process of delivering the facility.
Difference between BIM and convectional 3d cad
The principal difference between BIM and conventional 3D CAD is that the latter describes a building by independent 3D views such as plans, sections and elevations. Editing one of these views requires that all other views must be checked and updated, an error-prone process that is one of the major causes of poor documentation. In addition, data in these 3D drawings are graphical entities only, such as lines, arcs and circles, in contrast to the intelligent contextual semantic of BIM models, where objects are defined in terms of building elements and systems such as spaces, walls, beams and columns.
Improved Coordination
Visualization
Cost Estimating
Offsite manufacture
Sequencing
Clash Detection
Reduced change orders
Improved understanding of estate
Access to relevant/useable information